ACA Homepage Archive- 2007
---
Long Beach Casting Club Damaged by Fire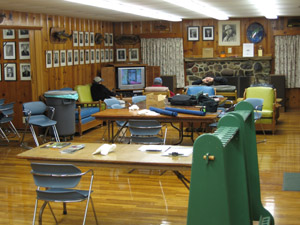 12/2/07- The Long Beach Casting Club was severely damaged Sunday afternoon by a fire that seems to have started in the southwest corner of the building, near the fireplace. The cause and origin of the fire is still unknown and is under investigation.
Firefighters responded to reports of smoke coming from the clubhouse at about 4 p.m., according to a Long Beach Fire Department spokesman, and in about five minutes contained the blaze in the entrance hall. Apparently people at the adjacent dog park spotted smoke and called the fire department. Meantime, the building's security alarm service notified Board member Frank Kropacek who immediately came to investigate, and the fire department notified past-president Stan Holden who also responded.
The office and kitchen had minimal damage, however there is considerable smoke damage throughout the structure, including the meeting room.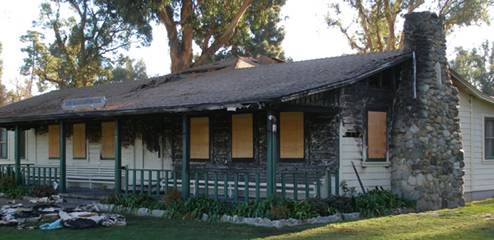 Rick Hilles, club president, said that the insurance company had been notified. He was also looking for a nearby venue to hold the December board meeting. He also stated that "The Club has every intention to restore the property to its original condition," and will form a task group to secure the salvageable building contents, identify a reconstruction team, determine the financial impact and identify and track sources of help and support.
Since the building is not usable, all fly tying classes and other clubhouse activities are cancelled until further notice.
The facility has been home to the Long Beach Casting Club since 1925.- Mick Woodbury (Read more in Press-Telegram online) & (Orange County Register article & slideshow)
We've Lost Our Great Friend Jim Chapralis 1932-2007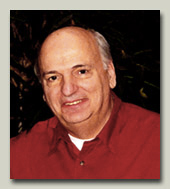 Nov. 10, 2007- Jim has lost his fight against cancer. We will always remember Jim for his devotion and love of casting and angling and his gift for sharing it with others. He has been a mentor to several outdoor writers, including this one. Jim just recently finished writing the manuscript for his last book entitled "Le Shack"; stories from his favorite trout camp. We hope it will be available soon.
At age 23, Jim won the International Distance Fly Casting Championship (Paris, France, 1955) and the All-Round Casting Championship (Stuttgart, Germany, 1956). Although he had not participated in a national tournament for 45 years, Jim competed in the ACA National Casting Championships held in Lexington, Kentucky, August, 2001 and won the Gold Medal (first place) for the Senior Distance Single-Handed Fly Casting Championship with a long cast of 163 feet and another Gold Medal in the same event in 2006 with a distance of 172 ft.!
We will always think of Jim fondly and miss him. He had a heart of gold. (Read more)
---
2007 ALL AMERICAN TOURNAMENT RESULTS
The Chicago Casting Club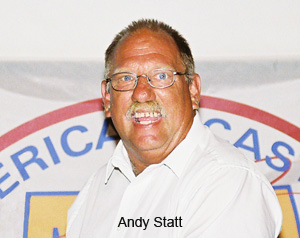 held their annual two day event on Sept. 8-9th. Dave Roberts of Lexington, KY won the Grand All Around. The distance events were held in Chesterton, IN with 90 degree heat, 95% humidity and no wind! The conditions for the accuracy events in Chicago's Lincoln Park were gusty 15 mph winds. All 12 ACA recognized events were held including the All American Event. The event is a special 5/8 oz. Plug Accuracy event in which only those that have won a Gold medal in an accuracy event at a national are allowed to compete. It's an honor to have your name included in the ranks of America's greatest casters.

This prestigious event always seems to become a catfight and this year was no different. As usual it was down to the wire. This year we had 6 casters eligible to compete: Dick Fujita, Bill Burke, John Seroczynski, Andy Statt, Beth Statt and David Roberts. When the dust cleared after the first round there was a two way tie between Andy & John with scores of 97 with David Roberts scoring a 1 on his final shot to just miss out on the shoot-off with a score of 96. With the pressure on, Andy held his ground edging out John with a score of 98 points. See (scores) and (photos).
STEVE RAJEFF WINS GRAND ALL-AROUND IN NATIONALS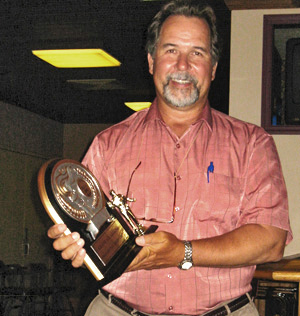 Mason & Lebanon, OH- During the week of August 1st, the Cincinnati Casting Club hosted the ACA National Championships in sweltering heat and humidity. On Monday during the first of two days of distance events, the best description for the conditions was," it's like casting through JELLO"! That didn't stop both Henry Mittel of Oakland Casting Club and Steve Rajeff from breaking the old record in 5/8 oz. Revolving Spool Distance, but Steve's cast was a foot longer. Steve's cast set the new record of 367 ft. In Senior Men, Bill Burke and Bill Clements had a similar ocurrence when B.B. exceeded the record with a 330 ft. cast, but "Cajun" Bill Clements cast 344 for a new National record.
Also in Monday's distance contests, Pam Peters set a new record of 176 ft. in Two-handed Fly Distance for the Women's Division. In the Juniors Division, William Beck of Ont. Can, broke the 1/4 oz. Accuracy Record with a score of 82. (See article on William below)
Oakland won the 5/8 Accuracy Team Event. Steve Rajeff won the Anglers All Around in the Men's Division, Zack Willson in Senior Men, and Pam Peters in the Women's. Henry Mittel was second in the Grand All Around and Dave Roberts was third. Steve Rajeff cast the only 100 accuracy scores of the tournament- four of them! 56 competitors attended this year's event. We hope to see you all in San Francisco for next year's 100th National! (2007 Nationals scores) (Photos) Special Thanks to George McCabe for his photography.
---
2007 IL State Tourament Scores
The Chicago Casting Club held their annual one day event on July 22nd in hot windy conditions. All Fly Acc. was won by John Seroczynski and the All Plug Acc. winner was Bill Clements Bill also won All Accuracy in the A-Class and Pam Peters won it in the B-Class. See scores
---
ACA Junior Caster William Beck Wins Bassmasters Casting Kids Event
Mississauga, Ont. Can.- William did us proud on Sat. July 7th winning his age group at the Mississauga  Bassmasters Casting Kids event. He actually tied for first and won it in a cast off! He now progresses to the Provincial Finals on Sept 8.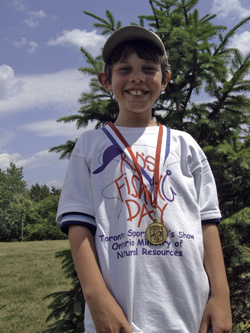 In 1991, BASS developed the Bassmaster CastingKids program, which is similar to the NFL punt, pass, and kick events. However, in CastingKids the challenge is to flip, pitch and cast a hookless lure to a bullseye target. Mastering these three techniques will give any angler the skills they need to present any lure and catch monster bass. Scoring is based on a points system so the young angler with the most points wins! In only 15 years of existence, with over 17,600 national and international events conducted to date, participation by more than 1.9 million children and more than $3.1 million awarded in cash, prizes and scholarships, the Bassmaster CastingKids program is the most successful youth fishing program in the world.
Participants compete in local events conducted by an affiliated BASS Federation Nation club. Each local event has two winners, one in each age group. The winners then proceed to their respective state finals, where each state then determines two winners to represent their state at the National Semifinals. From the National Semifinals only 12 contenders will advance to the National Championship, which is conducted in conjunction with the Bassmaster Classic each year. [One contender per each age group representing the Northern, Southern, Eastern, Mid-Atlantic, Western and Central Divisions]
ACA invites all CastingKids and "alumni" to compete in our events!
---
DOWNLOAD YOUR SPRING 2007 ISSUE OF:
---
International Casting Sport Federation Launches New Web Site

Kavlinge, Sweden- On May 14th. ICSF Secretary General Ulf Persson today announced the address of their new website at http://www.castingsport-icsf.com. Their old site had been dormant for many months.
---
INTERNATIONAL PROVISIONAL TOURNAMENT CALENDAR:
CASTING SPORT 2007 TOURNAMENTS (here)
---
Check With Your Airlines Before Packing Rods!
Many of us are traveling to fishing destinations, the FFF Conclave, the ACA Nationals and the ICSF games in Europe this summer. Plan ahead to avoid penalities or refused baggage! The following are examples of the free baggage allowance and over-size penalties on two airlines for domestic and Canadian travel. These have been condensed. For the full policies please check directly.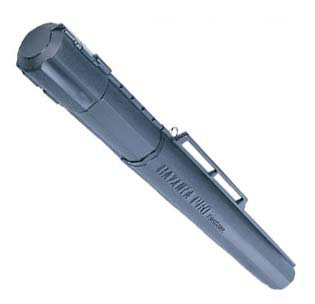 American Airlines- The size limitation of your luggage is calculated by adding the total outside dimensions of each bag, that is, length + width + height.
Two checked bags at 62 in/157 cm each
One carry-on bag at 45 in/114 cm
The maximum weight per checked bag is 50 lbs/23 kgs.
The maximum weight per carry-on bag is 40 lbs/18 kgs.
Checked baggage which is larger than American Airlines stated size limits will be charged at the rate of $100 per piece. Baggage measuring more than 115 in/292 cm (total outside dimensions; length + width + height) will not be accepted as checked baggage.
Southwest Airlines- When checking rods, containers may measure three inches in diameter and 72 inches in length. Maximum weight is 50 pounds and maximum size is 62 inches (length + width + height) per checked piece of luggage. Items weighing from 71 to 100 pounds and oversized items in excess of 62 inches but not more than 80 inches (i.e., surfboards, bicycles, vaulting poles) will be accepted for a charge of $50.00 per item.
---
2007 ALL AMERICAN TOURNAMENT DETAILS
The Chicago Casting Club invites all casters to their annual two day event this Sept. 8-9th. The distance events will be held in Chesterton, IN and the accuracy events in Chicago's Lincoln Park. All 12 ACA recognized events are scheduled. Read full details click: here
---
SCHEDULE ANNOUNCEMENT:
2007 ACA NATIONAL CHAMPIONSHIPS HOSTED BY THE CINCINNATI CASTING CLUB!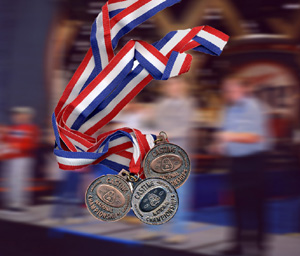 On April 5th., the ACA Executive Committee received the schedule from the Cincinnati Casting Club for our 99th Annual Casting Championships. They will be held the week of July 30th to August 4th 2007. The Accuracy Events will be held on Cincinnati Central Turners on Pinny Lane and the distance events at the Lebanon Sports Complex. The host hotel is the Kirkwood Inn. They have given us a special room rate of $84 a night for a double room. Call the Kirkwood at 1-800-732-4741 and be sure to mention the American Casting Association.

Google Maps with event and hotel placemarks: Accuracy Events- Cincinnati Central Turners, Distance Events- Lebanon Sports Complex, and Awards Banquet- Houston Inn.
Thanks and good luck to Andy Statt, President, Cincinnati Casting Club
---
GOOD-BYE OLD ACA INSIGNIA/LOGO
On 3/14/07, ACA President Patrick McFadden announced that the ACA Voting Delegates have

officially replaced the old insignia (on left) with the new one above in the website banner. Patrick is also looking forward to the creation of a line of ACA logo merchandise for our casters. The artwork in our new logo was created by John Van Derhoof of Long Beach, Ca. John has a long history of service to casting and is a leader in fly-design and teaching fly-tying. We're grateful for his insight, creative computer skills and generosity.
5WT COMBINATION ACCURACY/DISTANCE RULES CHANGED
The ACA Voting Delegates have made a correction and clarification of this ACA Special Event. The minimum length of the continuous line floating line is now 88' and the backing or running line is unrestricted. You can read the amended rules: (here).
---
NORTHERN CALIFORNIA COUNCIL of the FFF INDUCTS STEVE RAJEFF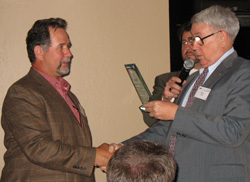 Pleasanton, CA-
On Feb. 24th., 2007 the NCCFFF proudly welcomed Steve Rajeff into the Northern California Fly Fishing Hall of Fame for his outstanding contribution to the art and science of fly fishing, and performance with a fly rod. At the sold-out dinner, Chris Korich, Steve's childhood friend and casting rival, made a highly complementary speech about Steve's casting career. Dave Ford, President of Northern California Federation of Fly Fishers, and program chairman John Rosanovich presented the award. Jake Jordan, Steve's long time saltwater fly-fishing and ex-tackle-industry friend presented a magnum of wine to Steve to commemorate the occasion.


---
JIM C. CHAPRALIS INDUCTED INTO THE NATIONAL FRESHWATER HALL OF FAME
On Feb 17, 2007, the National Freshwater Fishing Hall of Fame in Hayward, WI, inducted author, international fishing pioneer and tournament caster Jim Chapralis in the Special Recognition Category. His Special Recognition Award is inscribed: "For outstanding achievement in developing international fishing opportunites for the average angler, especially in the area of flyfishing".

In 1961/62 he established the Fishing Division for Safari Outfitters, Inc. In 1975 he founded PanAngling Travel Service. Jim and his staff booked more than 40,000 international trips for anglers and explored, developed and marketed numerous fishing areas around the globe. Jim also edited The Pan Angler, the first monthly international fishing newsletter.

Jim who spent 37 years in the adventure fishing travel business, is author of World Guide to Fly Fishing, Fishing Passion and Master your Fly Casting. Our friend Jim also volunteers as Chairman of ACA's Public Relations Committee and is active in Trout Unlimited.
---
2007 ACA WINTER NATIONAL TOURNAMENT- "A REAL ICE BREAKER!"
GGACC- The casting pond was frozen when casters arrived at the Angler's Lodge on Saturday morning, Jan. 13th. Steve Rajeff said he only remembers the ponds being frozen once, a long time ago. After 'some' ice cleaning, Trout Fly Acc. began. Ice still floated around the targets and many casters had problem roll casting due to their line/leader getting stuck amongst the ice. Despite that obstacle, Steve completed the roll-cast round of Trout Fly with only 8 casts to score perfect. We didn't bother to clear the ice for the plug station, and Steve scored another perfect round in 1/4 oz. Plug Accuracy.
After the nice lunch provided by the club, we all headed to the ISE show in San Mateo to cast "Best of the West" 5 weight distance final. Steve threw 118.6 feet to take it all. Teenage caster "Frenchie", Francois Labot, didn't cast in the finals because he couldn't attend the qualifier. His un-official cast of 86 feet with the official G.Loomis setup, would have made him youth champion 3 years in a row.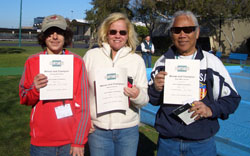 On Sunday Jan, 14th., the ACA 5wt. Combination event was held at the ISE show- San Mateo, after removing the ice from around the targets! Competitions started with Women's division and Wendy Gunn of Arizona won them in a sweep. "Frenchie" took first place in Intermediates with a respectable score of 3680. In Men's Chris King won with a score of 4640. Only making or missing one target separated top three scores of Men's division. Highest distance score was 1950 by Brian O'Keefe. In Senior Men's, Tony Yap took first place with 4060. The total of the top two Senior Men's distance scores were higher than men's top 3 distance scores! Tony Yap and Floyd Dean, not bad for old man! Steve did not officially compete but did a demonstration cast to scored highest of the day (of course!) with 5550.- (Frenchie, Wendy and Tony pictured at left)- (Scores) Kazu Koshimizu
ATTEND THIS YEAR'S SPEY O RAMA!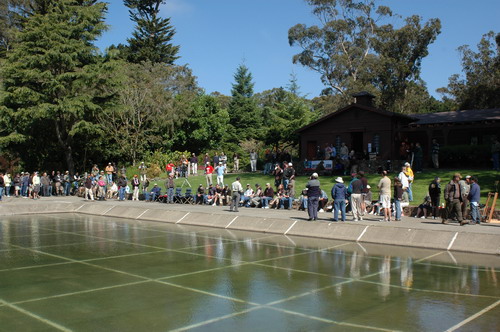 The Golden Gate Angling and Casting Club with Mel Krieger will be presenting the Jimmy Green International Spey-O-Rama & Fly Casting Festival April 13th-15th, 2007 at the world renowned casting ponds in Golden Gate Park, San Francisco. GGACC is devoted to introducing everyone to fly casting and angling at their historical club and facility. The event is open to the public and admittance is free. The ACA will be presenting the Jimmy Green Memorial Awards to the winners of both casting divisions to honor Jim. He was responsible for creating three of our current casting games and set several milestones in casting and tackle design.
GGACC Tournament Director and organizer Kazu Koshimizu says they will have international competitors, demonstrators and instructors from Scotland, England, Norway, Japan, Ireland, Canada, and in the US from Washington, Oregon, Idaho and various parts of California. There will also be 6-7 women competitors this year. Committee members are working hard to make this year's ™Spey-O-Rama the best ever. Go to SpeyORama.Com for full details!
---
FLY TO LONG BEACH, CA!
The Southwestern Casting Tournament is scheduled for February 10 -11, 2007. The Guesthouse Hotel has available rooms with a special rate of $75 per night. For the special rate, please mention the Long Beach Casting Club. The Guesthouse Hotel phone number is 800 214-8378. If there are any problems, please contact Vicki Arreguin at 562 597-1341 x128 varreguin@guesthouselb.com

The games will begin at 9:00 AM on both Saturday and Sunday. Saturday Games include Trout Fly, Bass Bug, 1/4 oz. Plug Accuracy, Open Plug Accuracy, Anglers Fly Distance, and a Western 1/4 oz. plug distance game. Sunday events will include Dry Fly Accuracy, Wet Fly Accuracy, 3/8 oz. Plug Accuracy, 5/8 oz. Plug Accuracy, and if time permits; a 5/8 oz. Plug Accuracy Team Event. Lunch will be served both days and there will be a Saturday Night Dinner at the Long Beach Casting Club.

Frank Kropacek is the tournament captain for this Southwestern Tournament.  His email address is fotial@aol.com
---
THE AMERICAN CASTING ASSOCIATION'S 2007 WINTER TOURNAMENT-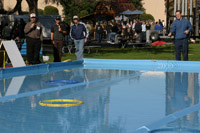 This casting event will be held on Friday through Sunday January 12-14 at the GGACC in San Francisco and the International Sport Expo at the San Mateo Fairgrounds.
The ACA Winter Tournament will be held according to ACA rules. Registration will be at the Golden Gate Park Angler's Lodge starting one hour before the competition. Competitions will include divisions for women, senior men, men, and intermediates.
Schedule:
Friday 1/12, starting at 9:30 AM, Golden Gate Park Casting Ponds
Dry Fly, 3/8 oz Plug, 5/8 oz Plug, Angler's Fly Distance
Saturday 1/13, starting at 9 AM, Golden Gate Park Casting Ponds
Trout Fly, Bass Bug, 1/4 oz Plug
Sunday tournament at ISE show in San Mateo is open to those who can participate. Event will be 5wt Accuracy and Distance Combinations. Competitive Divisions are; Men, Women, Senior Men, Senior Women and Intermediates. There will be prizes sponsored by the ISE and tackle manufacturers. Send registration form by January 5, 2007 to receive free gate for the show.
Sunday 1/14, 11 AM to 1 PM, San Mateo ISE show, Demonstration by Steve Rajeff, 5wt Accuracy & Distance Combination
All casters and spectators are cordially invited. You may RSVP and get more details (here), and download registration form (here)

---