The Association &amp Membership
---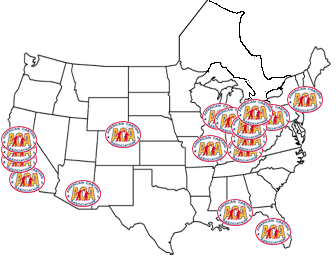 Member Clubs
Rocky Mountain Flycasters- Loveland, Colorado- Bob Molzahn: (email)
Catskill Mountains Casting Club- Livingston Manor, New York- Per Brandin: (email)
Backcountry Fly Fishers- Naples, Forida- Ralph Pike: (email)
Gulf Coast Casters- Mobile, Alabama- Tom Dempsey, pres: (email)
Blue Grass Sportsmen's League- Lexington, Kentucky- LuAnn Johnson: (email)

Central KY Casting- Lexington, Kentucky- Patrick McFadden: (email)
Cincinnati Casting Club- Cincinnati, Ohio- Larry Moffett
Flycasters - San Jose, California- Luke Sing: (email)
Golden Gate Casting & Angling Club- San Francisco, California- Adam Dwinnels: (email)
Long Beach Casting Club- Long Beach, California- Mark Tsunawaki: (email)
Oakland Casting Club-Oakland, California- Luis Montes: (email)
Pasadena Casting Club- Pasadena, California
Pittsburgh Casting Club- Pittsburgh, Pennsylvania- Eddie Matuizek: (email)
Rio Salado Casting Club- Tempe, Arizona- Larry Allen: (email)
St. Louis Fly and Bait Club, St. Louis, Missouri- Dale Lanser: (email)
Toledo Casting Club- Toledo, Ohio- Frank Gralak: (email)
Valparaiso Casting Club- Valparaiso, Indiana- John Seroczynski: (email)
Annual Memberships are also represented in the following states:
Arizona, California, Connecticut, Florida, Illinois, Michigan, Missouri, Montana, New Jersey, New York, Ohio, Virginia, Washington, D.C., Washington State
If you're interested in starting an ACA Club or are just starting, you can find out more by reading, "How to Hold an ACA Event"- by John Field.
---
ACA is an Ohio non-profit and tax-exempt 501(C)3 organization:
MISSION:
The corporation is organized exclusively for charitable and educational purposes including, without limitation, to foster national and international amateur sport competition in the sports of angling and casting; to support, develop and train amateur athletes for the U.S. Casting Team and send them to international amateur competitions; to sanction national casting tournaments and maintain uniform rules governing tournament casting; to educate members of the public about angling and casting; and to raise and distribute money for any of the foregoing purposes.  The corporation may, as permitted by law, engage in any and all activities in furtherance of, related to, or incidental to these purposes which may lawfully be carried on by a corporation formed under the Ohio nonprofit corporations laws and which are not inconsistent with the corporation's qualification as an organization described in Section 501(c)(3) of the Internal Revenue Code or corresponding section of any future tax code.
---