Cast Masters
---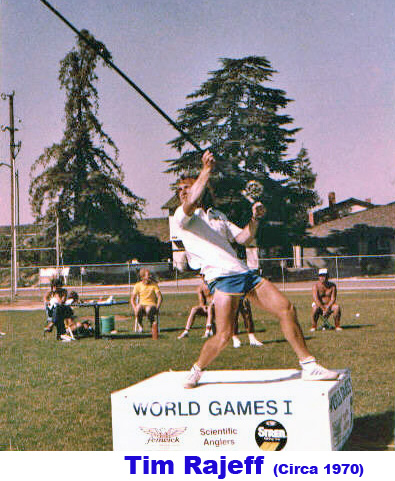 A Lifetime ACA Member, Tim made 9 appearances on ACA All American Team, holder of Men's Fly Accuracy Combination Record with the only 300 score ever! Tim has also competed in World Championships.
Men's ACA Record Co- holder Score 100:

| | | |
| --- | --- | --- |
| Dry Fly Accuracy | Trout Fly Accuracy | Bass Bug Accuracy |
| Bass Bug Accuracy | 3/8 oz Plug Accuracy | |
Tim is also co-holder of the Intermediate Trout Fly Accuracy Record with a score of 99. Practice makes perfect.
How long have you been casting? I started casting when I was a wee lad. My competitive casting career started in 1969.
Where do you practice? Since retiring from casting in the mid 80s, I no longer practice casting. I am working to get my two hand certification and have been practicing Spey casting in my back yard casting pond. I do some casting in my sleepzzzzzzzzzzzzzzzzzzzz.
Favorite rod: I don't have a favorite rod, just like I don't have a favorite food. Can you imagine eating the same food every day? If I had to choose one rod I would be buried with, it would be the old 9' #5 GLX rod.
Favorite reel: I had this crazy Czechoslovakian spinning reel where the spool didn't move up and down but was angled in a weird way and spun when you were winding it in. Kind of crazy and I am not sure you can visualize it.
Advice for new casters: As Harvey Pennic said, "Find the best (caster) in the world and copy their style but only do so if you are built like them." When you practice your casting, pretend you are in a big tournament and when you are in a big tournament pretend you are back home practicing. Never, under any circumstances, take a sleeping pill and a laxative on the same night.
One-line philosophy relating to casting ( or to life in general): There is always room for Jell-O.