Cast Masters
---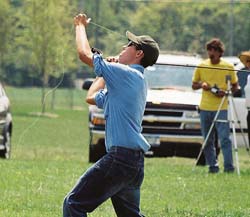 George Revel
Recipient of the Robert Budd Memorial Award three years running for being the Intermediate Division Champion at the 2003-2005 ACA Nationals. He holds the ACA 1/4 oz. Intermediate Spin Distance Record. He and his brother Dusty are affiliated with Orvis and are FFF Certified Casting Instructors. Men, better watch out for the Revel brothers!
How long have you been casting? I've been casting and competing for about four years. I spent hours in the street in front of my house casting a mismatched glass rod for some time before I started competing. My bother Dusty and I tried to figure it out for about a month before we called in the professionals.
Where do you practice? I practice accuracy in the 65ft. long casting pond in my back yard. For distance I head down to the soccer fields about a mile from my house.
Favorite fish to catch: Shad, because they fight like crazy and I can cast about eighty feet to catch them.
Favorite rod: My six weight Orvis T3 that I've had for about three years. I use it for casting and fishing. It's a great all around rod.
Favorite reel: My Battenkill 2 that matches up nicely with the heavy T3. It's light and I've put it through hell. So far so good!
Advice for new casters: Practice is crucial to success,as in any sport. Ask for help because you will receive it. Not all advice is good advice, so evaluate appropriately.
Philosophy relating to casting: Fish when you can, and when you can't........cast!