Cast Masters
---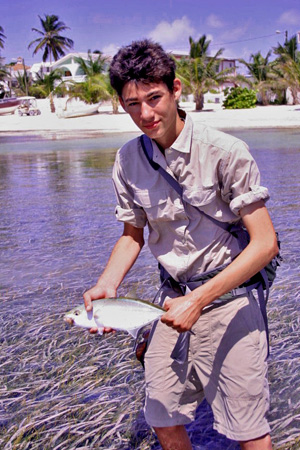 Dusty Revel
Holds 9 Intermediate Records: All Plug Distance, All Fly Distance, Overall Distance, Angler's Fly Distance, One Hand Fly Distance, 2 Hand Fly Distance, 1/4 Oz. Spin. Dist., 5/8 Oz. Rev. Spool Distance and 5/8 Oz. Spin 2 Handed Plug Dist..
How long have you been casting? I've been casting for five years. The National Tournament in Long Beach this August will be my fourth and last chance to break some records in the Intermediate Division.
Where do you practice? I practice on the backyard pond before the Nationals, but for the rest of the year I keep my casting sharp by using it on the stream. That's my favorite place to practice.
Favorite fish to catch: My favorite species would be steelhead, with any other species that spends most or all of its life in salt as a close second.
Favorite rod: I use all my tournament fly gear for fishing as well as competing, but my favorite rod would be the Orvis Zero Gravity 5wt. this rod fits my style amazingly. This rod makes mending easy, it allows you to fight big fish on 5x tippet with a greater success rate than stiffer rods, and it can handle casting  an indicator, two flies and split shot without feeling overloaded.
Favorite reel: The Orvis Vortex VO2 has a great drag for any species, but might be a little over kill for most trout.
Advice for new casters: Practice often whether it is on the stream, casting pond or in your back yard, and remember bushes and trees make things a little more interesting.
Philosophy relating to casting: Always find time to fish, you will go back to your daily routine felling a little more refreshed.