Homepage Archive- 2013
---
---
GGACC President Tom Gong Passes Away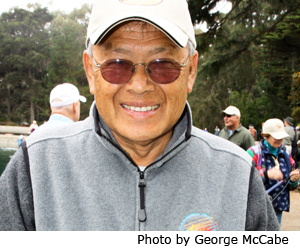 Tom died on December 15th after complications from a recently diagnosed autoimmune disease that destroyed his kidneys. After a four month long fight, his body gave out. At the time of his death, he was still serving as president of the Golden Gate Angling and Casting Club. He is survived by his beloved wife Elaine Gong. Tom will be remembered for his easy going, fun personality, his volunteerism and fair adjudication of the rules.
Over the years, Tom served as ACA president, president of the Oakland Casting Club and lastly, GGACC. He is responsible for helping start many new casters. He held the Senior Men Angler's Fly Distance record, until it was broken by Cajun Bill, who Tom was coaching and used Tom's own rod! Tom began tournament casting in the mid-1980's and enjoyed fly-fishing with bamboo and old fiberglass rods in the new millennium. In his sixties, he began learning how to cast with switch and double-hand rods and enjoyed watching Spey-O-Rama at his club.
Tom earned a PhD from the Department of Zoology at UC Berkeley with an emphasis in cell biology. He retired after spending over 20 years as a research scientist in biotechnology. Everyone will miss Tom Gong.
---
2013 ICSF World Casting Championships: Halle, Germany, Sept. 11-15th Schedule and Info
---
---
10th Annual Jimmy Green International Spey-O-Rama
It gives me great pleasure, on behalf of Golden Gate Angling & Casting Club of San Francisco to invite you to the 10th anniversary year of the Jimmy Green Spey-O-Rama.  The event will be held at the Golden Gate Lodge and Casting Ponds on April 19, 20th and 21st 2013.
We welcome all casting contestants, observers, vendors and visitors.  The Spey-O-Rama will feature three categories of casting contests those are the men's casting contest, the women's casting contest and the senior casting contest (the latter event is open to all persons 55 years of age or older.)  Prizes will be awarded in connection with the contests.
The function is free to the public, and we welcome persons who have, might have, or are just curious about the sport of fly fishing.  During the three days, there will be events which we hope will be of interest to ladies, men, and families.  Casting contestants and vendors will be provided breakfasts and  lunches during the three-day event and will be provided dinners on Friday and Saturday nights.  Members of the public are cordially invited to join us for a nominal meal fee.  There will be demonstrations and casting lessons as in prior years.-JOHN C. TILL, Committee Chairperson JIMMY GREEN SPEY-O-RAMA 2013-Invite
---
Illinois State Championships August 25- 26th Results!
---
Andy Statt Grand All Around Champion
---
New Casting Records Update!
STEVE RAJEFF WINS HIS 40th GRAND NATIONAL CHAMPION TITLE!
2012 National Casting Championships Results
---
Weather conditions at the tournament: The accuracy events and 1H fly distance were not affected by a lot of wind - either very weak or almost straight from behind. The other distance events had mostly more - sometimes less - wind. The plug distance events also had rain. The wind during the distance events was very uneven: There were 3 new world records (#6, #7or9, #5 - all in men's) because there was little wind at the wind meter but probably good wind just 10 feet higher or 20 feet left or right- Henry Mittel