---
Henry Mittel Earns Gold Medal at World Championships- Places 9th Overall: Official Results
Kentucky State Open Casting Championships Results
2013 Jimmy Green International Spey-O-Rama Results and Story
---
105th ACA National Casting Championships Results & Wrap-up!
August 1-4th- Hosted by the Oakland Casting Club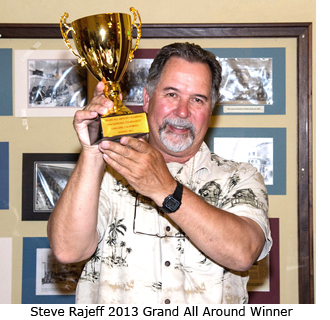 "The Oakland Casting Club hosted the American Casting Association's 105th National Casting Championships this August 1-4th in Oakland, California. Approximately 50 competitors from around the country participated. A 9 year old girl in the Junior Division named Maxine McCormick, who has been training for the last year, cast very well in distance and accuracy events and even matched some scores of the adult divisions! Larry Allen a retired dentist from Arizona, wowed the field by winning eight Men's medals and placed third in the Grand All-Around. He owes much of his success to his physical conditioning and year round practice. We wish him continued success as he heads for the international championships in Halle, Germany next month.
Steve Rajeff won his 38th Grand All Around by winning nine gold and three silver medals and all of the Men's combination awards at this National. Henry Mittel placed second in the Grand All-Around and Angler's All Around, took two gold, five silver and three bronze medals. We also wish him great scores in Halle, Germany! In the All-Angler's Combination, Elaine Gong won in the Senior Women Division, Nicole Kozicki won in the Women Division and Tony Ramirez in the Senior Men Division."- JF
---
GGACC President Tom Gong Passes Away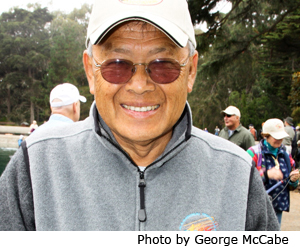 Tom died on December 15th after complications from a recently diagnosed autoimmune disease that destroyed his kidneys. After a four month long fight, his body gave out. At the time of his death, he was still serving as president of the Golden Gate Angling and Casting Club. He is survived by his beloved wife Elaine Gong. Tom will be remembered for his easy going, fun personality, his volunteerism and fair adjudication of the rules.
Over the years, Tom served as ACA president, president of the Oakland Casting Club and lastly, GGACC. He is responsible for helping start many new casters. He held the Senior Men Angler's Fly Distance record, until it was broken by Cajun Bill, who Tom was coaching and used Tom's own rod! Tom began tournament casting in the mid-1980's and enjoyed fly-fishing with bamboo and old fiberglass rods in the new millennium. In his sixties, he began learning how to cast with switch and double-hand rods and enjoyed watching Spey-O-Rama at his club.
Tom earned a PhD from the Department of Zoology at UC Berkeley with an emphasis in cell biology. He retired after spending over 20 years as a research scientist in biotechnology. Everyone will miss Tom Gong.
---
---